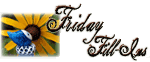 So...here we go!

1. Sometimes,
I wonder if I am going insane and sometimes I am sure I am
.
2.
Let's just forget
about the whole thing.
3. Small
things can be very amusing, cute, or just small
.
4.
The Bible
is very enlightening.
5. I keep meaning to
do something, but then I forget what it is!
6.
I am not married
...yet.
7. And as for the weekend, tonight I'm looking forward to
watching a movie or just doing something at home
, tomorrow my plans include
going to a craft show
and Sunday, I want to
enjoy church and whatever else happens. Oh, and Sunday is Orphan Sunday, so we are having a special service. What can you do for orphans?