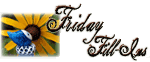 And...here we go!
1. The tale is told of
true love - it's just too bad the movie version cut out all the references to God
.
2.
England
is something that always makes me think of my ancestors.
3. To ensure
you don't spend too much money don't go shopping
.
4.
Family
is a fine thing.
5. It's never too late to
draw near to God - just think of the thief on the cross
.
6.
I wrote a note
on the back of an old receipt.
7. And as for the weekend, tonight I'm looking forward to
another quiet night at home
, tomorrow my plans include
serving with the kids at church
and Sunday, I want to
enjoy the time in creche, and the fellowship at The Gathering
!