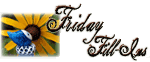 And...here we go!
1. Beware of
cute children - they can steal your heart
.
2.
I have never been to the
snow.
3. And since we
are surrounded by so great a cloud of witnesses, let us lay aside every weight, and the sin which so easily ensnares us, and let us run with endurance the race that is set before us
.
(Hebrews 12:1)
4. _____ spirits?
5. Where
can I go from Your spirit? Or where can I flee from Your presence? If I ascend into heaven, You are there; If I make my bed in hell, behold, You are there. If I take the wings of the morning, and dwell in the uttermost parts of the sea, even there Your hand shall lead me, and Your right hand shall hold me
.
(Psalm 139:7-10)
6.
Soup and bread
is one of my favorite meals when it's cold out.
7. And as for the weekend, tonight I'm looking forward to
a quiet night at home watching episodes of The Man from Snowy River and listening to the rain falling outside
, tomorrow my plans include
going to my cousin's birthday party
and Sunday, I want to
enjoy the fellowship at church and have a quiet afternoon
!