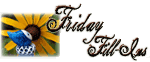 And...here we go!
1. It's cold and
wet, but I've got a good book to read
.
2.
You say tomay-toes, I say
tomatoes.
3. My favorite health and beauty product is
, well actually I don't have one
.
4.
Going to visit my cousins is
a nice long ride.
5. Well, first of all
I would like to thank God for always being there for me
.
6.
Two men in combat boots, and my sisters
; those were the cast of characters in a recent dream and it was
really scary
.
7. And as for the weekend, tonight I'm looking forward to
not doing much, but that may not happen
, tomorrow my plans include
more moving activities (next weekend is the big move day
and Sunday, I want to
try to remember all the stuff planned - Church, a luncheon, and a Church business meeting
!