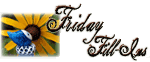 And...here we go!
1. This is what life does. It lets you
enjoy the little things that crop up everyday
.
2.
Do I
appreciate the moment?
3. Upon reflection
I have decided to continue doing the Interior Design course, especially now that I've been given a 6 month extension and can't get access to the modules unless I complete each assignment
.
4.
I have wanted a denim jacket
for quite a long time
and yesterday I bought one
.
5. Later, you wake up
someone else to let you out the door (said to the cat at 6.45 am).
6.
Look
to the far and boundless sea
for it is a powerful force, but also a calming one
.
7. And as for the weekend, tonight I'm looking forward to
a quiet night at home
, tomorrow my plans include
driving Dad to yet another appointment, and having a girly afternoon tea with friends
and Sunday, I want to
enjoy a very full day, with the possibility of having all meals out, and church, and singing practice for Christmas in July, and finally, maybe, babysitting
!