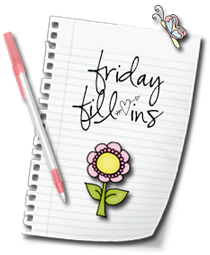 Graphic courtesy of Tonya!

And...here we go!
1. When I heard the music start I just had to get up and dance!
2. Laughter is the best medicine.
3. It's late, but I just have to finish reading this book!
4. Lo, I am with you always even to the end of the age. (Matthew 28:20)
5. My eyes have seen many beautiful things.
6. _____ strongly.
7. And as for the weekend, tonight I'm looking forward to relaxing, tomorrow my plans include baking and shopping and Sunday, I want to got to the baptism of my adopted nephew and have lunch with his family then ... whatever else happens!
~~~~~~~~~~~~~~~~~~~~~~~~~~~~~~~~~~~~~~~~~~~~~~~~~~~~
Last weekend Ikea was mostly good. I got my bookshelves and a few other things, but was told that one item that I wanted had been sold out before I got there.
They don't offer online ordering, or postage of items when they come in, so I ended up going back again on Tuesday afternoon. Once again the things had been sold out before I got there, but was told there would be more in stock the following day. I was very disappointed and a little mad. I don't live locally to the Ikea store, infact I had to drive to the other side of the city - which is not an easy drive. The most frustrating thing is that these were a single component of a Malla organiser - the small drawers that either fit in the shoe size organiser or side by side in the larger organiser. They had heaps of the organisers and large drawers available, but barely any or the small drawers that I needed. Surely someone would think about the stock levels and apparent demand and order from head office accordingly?!
As a result of this I am currently having to use Komplement organisers which are actually a little small and don't quite look right being a different colour.
I wasn't just going back for that one item (which I actually need 3 of), I also needed some extra shelves for my bookshelves to maximise the available space.
I did get a couple of bargains - some curtains marked down from $69 to $13 because they are a discontinued line!! I got 2 sets, one being the display model. I only need one set as curtains, but the other I plan to make into a new doona cover. One set was missing the tie-backs, but I didn't mind since I only need one set of those.
I'll post some photos when I've got my room organised. I'm still unpacking boxes and arranging my room, so I don't want to put any up until I can show you the finished room.
I've also discovered a new Melbourne based store called Lightly that sells ornaments and tableware. I've ordered 2 of the Chrysalis Butterflies made from recycled saucers. I have not idea exactly what they will look like because each one is different. All I was able to specify was colour and whether I wanted plain or floral. I wonder what they will look like?