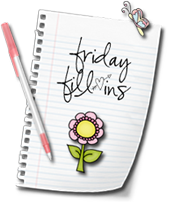 Graphic courtesy of Tonya!

And...here we go!
1. It is not the end of the world, when you break a nail.
2. Sitting here, listening to the sound of rain falling, I relax and dream.
3. Chocolate tastes so good!
4. Sometimes, putting others first is very rewarding.
5. Sunrises and sunsets are breathtaking, really.
6. Well, maybe there is more to life than the drudgery of work.
7. And as for the weekend, tonight I'm looking forward to card making with my friend Liz for her "Night Before Christmas in July", tomorrow my plans include going to the Melbourne Quilt and Craft Fair with my Mum and sisters (girls day out) and Sunday, I want to have an amazing breaky with my fellow GNG leaders, fellowship with others at Church, hear the teaching from the Word and have a relaxing afternoon!