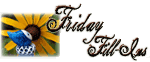 And...here we go!
1. We are on this earth because
that was God's plan
.
2.
In my
experience
you should be careful who you share your heart with because they may not care for it as they should
.
3. One of the hardest things for me to learn
is to be patient
.
4.
Facebook has got me
connected
with people who I haven't seen for years
.
5. I remember
summer days as a kid when we would run around under the sprinkler
.
6.
Childhood
is one of the best parts of my life.
7. And as for the weekend, tonight
I ended up mopping up water from the rain that got into our house, waiting for the power to come back on and having a scary drive through floooded roads to pick up my sister from work
, tomorrow my plans include
watching movies, reading books and maybe a little cross stitch
and Sunday, I want to
enjoy church and have a relaxing afternoon
!