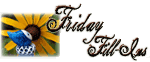 And...here we go!
1. So many of us
don't think about eternity and where we will spend it, but that is something we can choose in this life-time. In fact, it is the most important decision we will ever make
.
2.
God is there and in control
even in hardship.
3. Those who are accepting of
the free gift that God offers us will spend eternity with Him
.
4.
I am
waiting quietly.
5. Light is in both the
the sky and the Son of God, but it is the Son of God who gave the light in the sky
.
6.
God is in charge
of all that is ordinary
and extraordinary
.
7. And as for the weekend, tonight I'm looking forward to
time at home
, tomorrow my plans include
cleaning the church building
and Sunday, I want to
enjoy the fellowship at church and whatever else the day entails
!