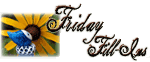 Ok, so I've missed doing this for the past few weeks, but there has been a lot going on. I was away last weekend at a retreat in a town in country Victoria that is now flooded, plus with world time zones it's often Saturday before I see the Fill-Ins main post in my following list.

So...here we go! For the first time in 2011!

1. Right now I need to be somewhere else.

2. Raspberry cordial is what's in my glass on a regular basis.

3. A copy of this letter has been forwarded to my lawyer (he he, not really because I don't have a lawyer).

4. Chocolate mousse is best eaten with a spoon.

5. The best movie I've seen lately is 'The Secrets of Johnathan Sperry'.

6. There are things I like; and there are things I love.

7. And as for the weekend, tonight I'm looking forward to yet another night at home after picking up my sister from work, tomorrow my plans include going to a farewell afternoon tea, cleaning at church and maybe a little shopping and Sunday, I want to enjoy the fellowship at church, then a BBQ and maybe even head out for a Pancake night!