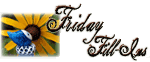 And...here we go!
1. You do your thing; I do mine and sometimes
our plans will be the same
.
2.
Fort Night
is what's been on my mind on and off all day
(for those who don't know this is an extra kid's club activity that we are running at church tonight. We make forts out of cardboard boxes and blankets and have fort wars using scrunched up newspaper)
.
3. Remember when
life was simple and nothing worried us
.
4.
Reading, craft and ...
are three of my favorite obsessions :-)
5. During the last year
I have struggled through some tough things - and there is no end in sight.
6.
Playing with little kids
puts a smile on my face.
7. And as for the weekend, tonight I'm looking forward to
Fort Night
, tomorrow my plans include
a birthday catch-up with a friend (6 months late)
and Sunday, I want to
enjoy the fellowship at church, a quiet afternoon and then some planning for future children's ministry
!