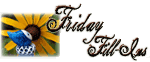 1. There are places
I would like to go, but not alone
.
2.
Wind will
blow those clouds away.
3. Standing in the
rain on the top of a mountian is an amazing experience
.
4.
Oh boy,
oh boy.
5. He went out tiger hunting
but didn't catch anything more than a beetle
.
6.
Lord, please keep
my mind from wandering
where it should not go
.
7. And as for the weekend, tonight I'm looking forward to
a quiet night at home watching episodes of The West Wing season 6 and spending some time on Facebook
, tomorrow my plans include
gettin on with some projects I have planned and trying to keep cool
and Sunday, I want to
enjoy the fellowship at church and do something with family and/or friends
!