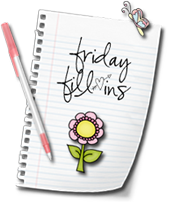 Graphic courtesy of Tonya!

And...here we go!

1. He was a man of prayer, my Grandpa.

2. Daffodils is what I look forward to most this time of year.

3. My best friend is currently out of the country and I really miss her.
4. I really don't like my job to be honest with you.
5. Appearances can be deceiving.
6. The last person I gave a hug to was my Mum.
7. And as for the weekend, tonight I'm looking forward to getting ready to sew, tomorrow my plans include sewing and Sunday, I want to have our weekly GNG breaky and planning meeting, fellowship and teaching at church, and relaxing in the afternoon, or maybe more sewing depending on how I go on Saturday. Or maybe some unpacking and sorting!