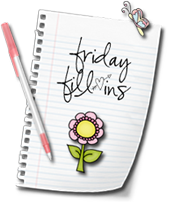 Graphic courtesy of Tonya!

And...here we go!
1. A sleeveless t-shirt and shorts is my favorite summertime outfit.
2. My favorite John Hughes movies is - wait who is John Hughes? I think I've heard that name recently but why ... thinking, thinking ... ok, now I know thanks to IMDb, well, of the ones he directed, I've only seen one - Curly Sue. Of the ones he wrote the screen play for or produced it would have to be Miracle on 34th Street.
3. Fabric is something I love to touch.
4. The full moon sends cats crazy.
5. I wish I was somewhere else right now.
6. When daylight fades there are glorious colours in the sky.
7. And as for the weekend, tonight I'm looking forward to relaxing in some way, tomorrow my plans include unpacking more boxes and sorting things (hopefully there are no more spiders of any kind, especially Redback spiders - there were 3 in one box last week), and have the birthday dinner for my sister and Sunday, I want to plan for GNG at our weekly breakfast meeting (I wonder what we'll eat this week), go to church for fellowship and teaching (I think we're starting a new message series this week) and probably take it easy in the afternoon!

~~~~~~~~~~~~~~~~~~~~~~~~~~~~~~~~~~~~~~~~~~~~~~~~
And now for some classic cats.
see more
Lolcats and funny pictures
see more
Lolcats and funny pictures
see more
Lolcats and funny pictures