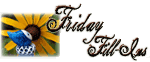 And...here we go!
1. Moving
is something that currently occupies many of my thoughts, since that's what my family and I are in the process of at the moment
.
2.
The truth will set you
free.
3. My best quality is
listening
.
4.
Please, give me all the
details
I can't do your tax without them
.
5. In nearly 10 years,
I have moved house nearly 5 times (the current move will be the 5th)
.
6.
Less stress
is what I need right now!
7. And as for the weekend, tonight I'm looking forward to
preparing my bedroom wall for painting
, tomorrow my plans include
moving boxes and painting my bedroom wall
and Sunday, I want to
plan GNG for this week, enjoy the fellowship, teaching and worship at church and have a relaxing afternoon, hopefully doing some cross stitch and watching a movie on DVD
!