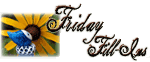 Last week I was sick with a cold (not swine flu) and not using the computer, but here I am back again this week.
And...here we go!
1. Apples are to oranges as
cats are to dogs (actually, to be honest, I have no idea)
.
2.
Moving is stressful
and that's all I have to say about that.
3. I think I hear
someone coming this way
.
4.
I love our national
flag
but I would like to change our national anthem to something that actually means something to current day Australians, and was written by an Aussie
.
5. Do what you want to do, but
keep in mind that everything has consequenses
.
6.
Dan looked over his shoulder
and behind him was a Radio Flyer wagon; in the wagon was a bucket filled with
rusty nails
.
7. And as for the weekend, tonight I'm looking forward to
celebrating the settlement of the house my parents have bought
, tomorrow my plans include
something, but what I'm not sure
and Sunday, I want to
get back into planning for Good News Gang, enjoy being at church again after missing it last week, and resting
!