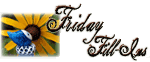 And...here we go!

1. One of my strongest beliefs is
that God is in control of everything, even if it doesn't seem like it
.
2.
Changing careers is a
huge
thing to do
!
3. The sky is cloudy with a threat of rain and wind and cold, so
bring it on because I like the cold better than heat - you can always find somewhere to warm up, you can't always find somewhere to cool down
.
4.
Knowing that God is in control
is comforting to me.
5. I always thought I'd be
married by now!
6.
Our cat was going crazy
and then I went outside to look at the full moon
and it all made sense
.
7. And as for the weekend, tonight I'm looking forward to
quiet night at home
, tomorrow my plans include
going to my first school reunion
and Sunday, I want to
enjoy church and maybe hang out with friends in the afternoon
!