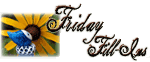 And...here we go!
1. I hold
many things in my hands, but not my toes
.
2.
My sister
is someone I like to travel with because
we then get to spend time together
.
3. That day,
when my Dad passed away, I knew life would never be the same
.
4.
I start a new career
this year.
5. Trust
must be earned, sometimes more than once
.
6.
As for the future, I am
in the dark.
7. And as for the weekend, tonight I'm looking forward to
being at home
, tomorrow my plans include
going to an engagement party
and Sunday, I want to
enjoy the fellowship at church and a quiet afternoon
!