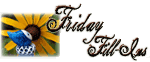 And...here we go!

1. It feels great to be involved in the life of children.
2. The solution is not always obvious.
3. I am trying not to fall asleep.
4. How about we go on an adventure together?
5. Sleep is something I highly recommend!
6. Imagine.
7. And as for the weekend, tonight I'm looking forward to a little cardmaking and finishing season 3 of 'Murder, She Wrote', tomorrow my plans include sleeping in and Sunday, I want to enjoy our GNG planning breakfast, fellowship at church, and babysitting in the evening!