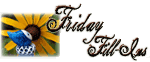 And...here we go!
1. One week ago I was planning a trip to Ikea.
2. I had very curly hair when I was young.
3. Mama told me you can't hurry love.
4. Let's talk about you and me.
5. Take your time - stop and smell the roses.
6. This, too, will pass!
7. And as for the weekend, tonight I'm looking forward to relaxing, tomorrow my plans include going out somewhere so I don't have to watch the AFL Grandfinal and hear my dad and brother yelling at the TV because they think the umpires made a bad decision and Sunday, I want to do some normal Sunday stuff!