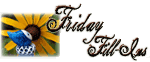 And...here we go!
1. My car
in called Pearl because the official colour is silver pearl
.
2.
A trip to Ikea
is coming up next.
3. Lately, things seem
very overwhelming
.
4.
In the bottom of my wardrobe
is one of my favorite 'hiding' places
for presents and other things
.
5. What happened
to some of the soft toys that I gave away? I wish I hadn't given them, but I hope whoever got them loves them
.
6.
Saving money
is not impossible!
Look out for bargains and have a regular savings plan.
7. And as for the weekend, tonight I'm looking forward to
a quiet night at home
, tomorrow my plans include
a trip to Ikea with Mel
and Sunday, I want to
enjoy the time of worship and fellowship and church and then maybe work on holiday plans for my Tassie trip
!