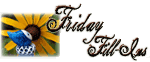 And...here we go!
1. I hope I can get
married before Jesus returns
.
2.
I don't know w
hat to do when
I see a certain person - I usually end up saying something stupid
.
3. Boy I sure did enjoy
the watermelon I had for lunch the other day
.
4. Remind me to call
someone sometime
.
5. What does the
local paper think, that we can read the information on the candidates on a Thursday and get our postal votes in the mail to be recieved Friday?
6. It makes me
mad when the DVD I borrowed from the library is so scratched that I can't watch it.
7. And as for the weekend, tonight I'm looking forward to
movie night with my sister
, tomorrow my plans include
going to Ikea
and Sunday, I want to
enjoy church and a quiet afternoon - I'm open to invitations out for lunch
!