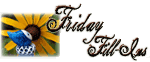 And...here we go!
1. I picked
some strawberries from the garden
.
2. I spread
some smiles around
.
3. I heard
about all these people getting engaged and wondered when it would be me
.
4. I wanted
space for more books, but couldn't figure out how to do it in my room
.
5. I wish
I could find another best friend
.
6. I noticed
you standing there, but I couldn't get through the crowd to talk to you
.
7. And as for the weekend, tonight I'm looking forward to
being at home with my family
, tomorrow my plans include
heading to the other side of the city for a children's ministry training day
and Sunday, I want to
enjoy church and get things planned for GNG on Wednesday
!