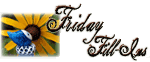 And...here we go!
1. For the first time
in ages I have almost finised everything on my 'To Do' list
!
2.
Watching the sun set into the Indian Ocean
is one of my best memories of summer so far.
3. My recipe for
pancakes
is one of my favorites because
I don't have to let it rest for half and hour between mixing and cooking
.
4.
I will remember many things
for years to come
others I will forget almost immediately
.
5. It starts with a
look
.
6.
Unscented
is a fragrance I enjoy most in a candle
because it doesn't give me a headache
.
7. And as for the weekend, tonight I'm looking forward to
a night at home
, tomorrow my plans include
doing all the things I was supposed to do over the holidays but didn't (or not)
and Sunday, I want to
enjoy the fellowship at church and plan for the first week of term at GNG with my fellow leaders
!