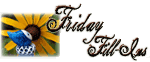 And...here we go!
1. It's always nice when
things go according to plan
!
2. I like to hear
children's laughter
.
3. Positive
influences
; negative
influences - both impact us in a variety of ways
.
4. This is
a collection of completely random statements
.
5. What I heard
was "Blah, blah, blah"
.
6. Often, I search
for a little something to remind me of where I've been. I don't go for the touristy stuff because I like a little sentiment attached. My current thing is brooches and badges
.
7. And as for the weekend, tonight I'm looking forward to
a quiet night at home
, tomorrow my plans include
study, preparing for Sunday afternoon and cleaning at the church building
and Sunday, I want to
enjoy the fellowship with my church family, have some fun with the kids at our movie afternoon and watch The Voice in the evening
!