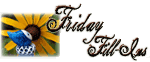 And...here we go!
1. Hallelujah!
What a Savior
!
2.
This
is where I wanna be!
3. When I was walking the dog this morning, I saw a handful of goose feathers in the road and I thought
this is a crazy dream. Time to wake up
.
4.
I was getting more and more frustrated in my job
and that's how I knew it was time
to find a new career
.
5. What were once vices
are no longer
.
6.
Toast with Vegimite
is what I've been having for breakfast lately.
7. And as for the weekend, tonight
I enjoyed a fun time with my sister
, tomorrow my plans include
a little shopping and going to a friend's birthday party
and Sunday, I want to
enjoy church and The Gathering (our young adult service)
!