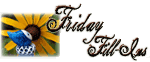 And...here we go!
1. I have a history of saying something stupid and then playing over and over in my mind what I should have said and beating myself up about what I did say.
2. How to alter sewing patterns is something I wish I knew how to do.
3. I recently ate toast, but I'm looking forward to lunch, since that toast was for breakfast.
4. I love to get out on the open road.
5. So that's it, that's the plan!
6. A little of a good thing better than nothing!
7. And as for the weekend, tonight I'm looking forward to relaxing with my cross stitch while watching a movie, tomorrow my plans include sorting out some more things in my room - hopefully getting my desk clear and useable - and Sunday, I want to fellowship at church in the morning and then relax in the afternoon!